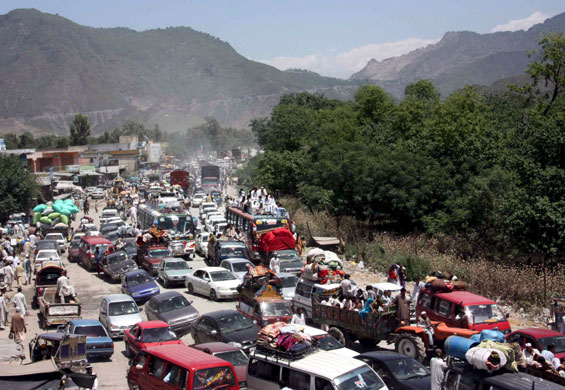 There is a view that the larger aim of the United States in Pakistan is to "secure" Pakistan's nuclear assets and neutralise its military, by balkanising Pakistan along ethnic lines, using propaganda, psychological warfare [for the fake "girl flogged in Swat" psy-op of as yet unknown origin that, on the margin, produced the opinion shift in Pakistan that allowed the Swat operation, see here], military threats, and economic inducements [see here, here, here, and also here]. The video and translated transcript posted in this post is relevant to this topic.
The video presents the opinions of an educated physician from a village in Swat, who appears to have been displaced to the mega-city of Karachi. He is clean shaven, dressed in Western clothes, familiar with the English language, obviously educated, and appears to hold "progressive" views. Yet, he is broadly sympathetic to conservative Muslim (not the same as Islamic) values, distinguishes clearly between "talib" (student, common noun) from "Talib" (one of many organised militant groups who claim this name, a proper noun, equivalent it seems to the English language name, Taliban –- a word he never uses), and does not buy any of the official narratives.
He is, from all appearances, from the "moderate" Pakistani majority on whose loyalty rests much of the stability of the state. Yet, his moral outrage and anger – which the official narratives ascribe only to"extremists" – speak volumes on how the government has lost the support of the ordinary people in Swat. This, and not his admittedly implausible analysis of the situation, is the main value of this video. In addition, he provides albeit tangentially and partially a first hand account of the atrocities that invariably accompany military operations.
Naturally, this view of the video is not shared by all. So two alternative views – one posted by a prominent Pakistani blogger whose humanitarian activism have been justly acclaimed, and the other by author of the You Tube post – is also provided before the video and transcript. Finally, links to some related blogs are at the end of the post.
A Pakistani blogger, Teeth Maestro reports: "I would also like to quote a short section from the email by Abira Ashfaq which had accompanied this video:
It seems like one can always accuse people who are opposed to the operation on humanitarian, human rights, and political grounds that we are twisting the words of the interviewees to suit our viewpoint – but never before have I met so many Swatis who were unanimous in the opinion that something has gone/or was always awfully wrong with this military operation – that it has caused immeasurable human suffering – that there are other powerful interests at play – that people have not been allowed safe passage and have had to resort to mountainous and unfriendly terrain and escaped in horrific conditions – almost everyone says that civilians are being targeted and never (purposefully) the Taliban – that they have seen burning bodies of these civilians – and the next day ISPR [Inter-Services Public Relations] will report that a taliban commander and several militants were killed. That we are taking ISPR reports in DAWN [newspaper] as authentic is indicative of the lack of media critique and questioning in our state. Understandably there is a lot of outrage in the IDP [internally displaced persons] community against the operation."
Here (on Page 2) is the You Tube video of the interview, followed by a translation from the Urdu language.
No related posts.
Related posts brought to you by Yet Another Related Posts Plugin.
Pages: 1 2